Christmas Tree Hire Policy
Terms and Conditions
All Christmas Trees, Stands and Decorations remain the property of Elfhelp.


The Client is responsible for looking after the Christmas Tree/Stand/Decorations while under his or her care but will not be liable for minor wear and tear.


Where a small amount of decorations are returned broken due to accident, Elfhelp is generally forgiving, understanding that healthy Christmas Festivities would not be much without a bit of rough and tumble. Broken items should be kept and returned to Elfhelp.

However, where a large amount of decoration items are found missing or broken on collection, these are treated as stolen, lost or vandalised. The client will be required to pay the retail value of such items.


Electric Fairy-Lights, when supplied, are high-quality sealed units. However the client must treat with the due care required of all electrical equipment. Make sure Electrical-Plug is dry before putting into socket.


Elfhelp will not be held responsible for any accidents or injury in relation to the hire.



bow wow!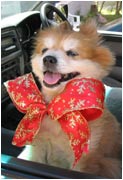 The Elfhelp Mascot
Looking forward to
Christmas Delivery trips...