Order Online

Prefer to book by phone?
Call: 1300 88 10 13
Christmas 2023 is open for Bookings!

Hire an un-decorated or decorated real Christmas Tree from Elfhelp for
hassle-free delivery, installation, stand-hire and pickup! (for Sydney NSW)

We'll confirms online Bookings email.


Large Trees are BOOKED OUT for 2023.

Due to a lack of new trees planted during the Victorian Covid Lockdowns,
there is a shortage of good big trees this year.

Consider an Artificial Tree for the same price for the next few years until farms recover!
Feel free to use the form below and specify "artificial" in the special instructions,
or email Xavier direct: xseton@elfhelp.com.au






Elfhelp Hire Packages...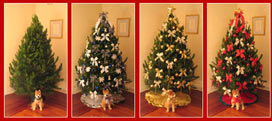 Hire Costs are Total Prices in Australian dollars.
Prices include:
GST, Real Tree, Stand, Delivery, Installation, Decorating (If Decorated service selected, all decos, lighting and topstar included), De-Installation and Pick-up.
1.
Cash/Cheque on Delivery
2.
Bank Transfer
3.
Cheque
made to
Elfhelp
& mailed to:
PO Box 911, Lane Cove,
NSW Australia 2066.
( But we'll send an invoice once we've
confirmed your booking)
Extra Charges

Payment in Foreign Currencies:
Please add A$15 equivalent

Long-Distance Deliveries:
...will cost a little extra; please enquire

Delivery and Pickup
Elfhelp's
"Suburb Delivery Dates"
is
optional
but encouraged!
Click here
to open in a new window