Testimonials
Elfhelp's pride is to please its customers - and over the years we have gotten to know many of our client's individual tastes in trees, whether one prefers lower branches raised, or a fat and joyful versus a tall and elegant tree. Just tell Xavier on the booking form in "Special Instructions", and he'll be on the look-out!


From Christmas 2009 and 2010


Hi Xavier Happy New Year to you and once again thank you for a most magnificent tree!!! Absolutely gorgeous.
My pick up day is tomorrow ... ...Thank you Xavier as always
Colleen Fitzpatrick, Milsons Point


Thank you for the tree,
I have loved it!! So stunning.
Shara, Longueville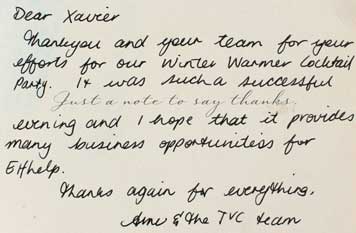 Hi Xavier,

I thought that I'd take this chance to thank you for the trees you supplied me this again year. I make a point of checking with clients in November so that I know how many trees I'll be needing to get. One family had visitors staying with them from the USA, who were very impressed with the pine towering above! As a personal concierge my business is all about making things easier for my clients, and knowing that I can rely on Elf Help makes things easier for me.

Until next Christmas, all the best, thanks to April, and have a great 2011.

Cheers,

Adrian McCowage
Lifestyle Manager
SOMEONE LIFESTYLE SERVICES
0416 154 875
www.someone.com.au



One of my favourites:

"Dear Xavier,

Having chased you for the invoice, you have now had to chase me for payment!

Please forgive the unforgivable, it has been a torrid time. Suffice it to say that the lady to whom you delivered the Christmas Tree has now agreed to become my wife!

I look forward to the next magical Christmas"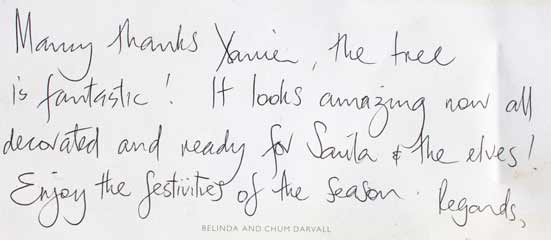 From Christmas 2008


The tree was gorgeous and we got so many comments on it. It was the best one we've had since moving to Australia and we will certainly book one again next year.
Ralf Barschow, Drummoyne

The tree was beautiful and all guests commented on how lovely it was.
The McCleay Hotel, Potts Point

Thanks again. The tree looked fantastic and was again a huge hit!!!
Blaze Stephenson, Glebe

The tree was beautiful thank you – quite magnificent and looked fabulous.
Helen Graham, Balmoral

Thanks for a great tree - it was much admired, and more than 3 weeks later, it was still fresh and green. Thanks too for the efficient delivery and pick up. We look forward to another wonderful tree next year.
Sandra Lee, Annandale

The trees have been a real joy this year and I look forward to co ordinating with you again next year.
Adela Dodd, Cabarita

Thank you very much for a terrific tree. It is a gorgeous shaped one so thank you very much.
Kate Saunders, Mosman

Thank you for the delivery of our tree today. It's a great tree and my (almost) three year-old son is ecstatic. I sure it will impress many people over the Christmas break.
Steven Turner, Balmain

THANK YOU SO MUCH FOR OUR MAGNIFICENT 12ft TREE – it has caused a sensation with everyone who has seen it!! Our little girls woke the morning after you delivered it and screamed with excitement when they saw it.
Belinda Darvall, Coogee

Thanks for your product - it really made our Christmas special this year, and made it easy to enjoy a real tree!
Tim Schaafsma, Leichhardt

Once again, Thank you so much, you really saved us this year. You run a great business!
Tina Melick, Paddington

Thanks so much for everything. We loved the tree and your whole service is amazing!!! We'll definitely be contacting you guys again next year!!!
Lucy Smith, Strathfield

Thankyou again, the tree was amazing!
Petrice Mitchell, Allen Capital, Double Bay

I LOVED the tree and am sorry to see it go...oh well there's always next year!
Agnes Wroblewski , Ashfield

Thank you for all your help this Christmas, I will definitely use your service again next year – keep up the great work!
Amanda Ibrahim, Pyrmont

We loved our tree this year. It is the best one we've had so far. Such a beautiful shape.
Brook & Lucinda Crocker, Newington


Christmas 2003-2007


30 Sep 2004 (Residential order)

...We used your service last year and think you are just fab!!

Nova Hall - Coogee
9 Nov 2004 (an early Santa Request for 2004)

Hi there Ben!! All the photos were PG-the lap dancing was only that we got Santa to sit on our laps for photos rather than the other way round.

IT WAS GREAT and SANTA was fabulous!!! We will definitely use you guys again. I shall email you the photos. Many thanks again-Santa was sensational!!!!

HM - Paddington
5 Jan 2004
TO ALL THE ELVES at ELFHELP

Christmas was never so easy.

A mighty big THANK YOU from The York for decorating our Reception Foyer with the beautiful live Christmas Tree.

We received the most efficient service from the helpful Elves at Elfhelp, from the very first telephone call through to the last. We were supplied with a fresh 6' tree, beautifully decorated, the aroma pervading the senses of residents, staff and our guests as they arrived. Lovely! We had many comments and the kiddies just loved it.

After Christmas, one quick telephone call seen the tree removed, with the Elf even sweeping the floor!

What a wonderful concept. Thank you one and all. We will certainly book in early next year, and we will even go bigger!

Thank you, Xavier, Therese, Paul, Ben and all the Elves at Elfhelp. Kind regards and Happy New Year


Cheryl - THE YORK apartments, Sydney
11 Dec 2003
Dear Xavier
a quick email to tell you that we love our tree - it is perfect! thank you
Nicole Macfarlan

26 Dec 2003
Dear Elfhelp,
We thought you'd like to see a few of us dressed up for Christmas Day, with the lovely tree you donated to us. It has such a wonderful smell, and brighten's our Mums, Dads and Nurses live's up every day. It has been greatly appreciated and also helped us win the Hospital Tinsel Teddy Award, and lunch for the staff. We're so glad the New Company is such a success, and all the best for the New Year.
Love
the babies and staff of the Newborn Care Centre,
Royal North Shore Hospital.
2 Dec 2003
Subject: Looks likes Elves have more brains
Hi there,
My office building looks over the Western Distributor. Yesterday afternoon a ladder fell off a passing vehicle, narrowly missing a small car and blocking 2 westbound lanes. Instead of simply moving the ladder from the road, drivers crawled along merging from 3 lanes to 1. Finally a 4wd bearing your logo pulled over and removed the ladder getting the traffic moving. Not only did this illustrate that elves have more brains than their human counterparts, it also drew some attention to your company. Well done.
Jennine Pohlmann
Manager, Card Scheme Compliance
Integrated Services CUSCAL
9 Jan 2004
Many thanks to the Elfhelp-Team for supplying and delivering our Christmas Tree. It was a beautiful tree, and has given us much joy during the festive season. You have provided a wonderful service, and we hope it has been successful for you.
With kind regards,
Catherine (and Peter) Casey, Huntley's Cove
How NOT to transport a decorated tree!
( Decorating is always done on location!)

Our advertising stunt went awry when we crossed the Sydney Harbour Bridge, buffeted by an ocean breeze.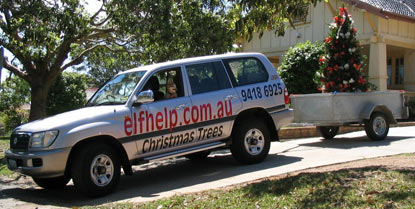 Donated Trees
2003-2008

In the spirit of the Christmas theme of birth, Elfhelp donates trees to the Royal North Shore Hospital Newborn Intensive Care Unit, the Childcare Unit at King George, Our Place Support Centre in Enmore and the Maternity ward at the Mater Hospital in North Sydney.

Occasionally we may donate to other organisations but unfortunately we can only afford to make a few extra donations per year, so apologies if we knock you back! (This may change as we grow). We may, however, be willing to trade for tangible Elfhelp Advertising, before December.